Domain Name Sniping Covered by Section 230–Scott Rigsby v. GoDaddy
It's refreshing to see a "normal" Section 230 opinion from the Ninth Circuit. They have gotten rarer, and the Gonzalez opinion may make them extinct.
Scott Rigsby is the first double-leg amputee to complete an Iron Man Triathlon. He registered "scottrigsbyfoundation.org" with GoDaddy.com in 2007. He didn't pay the renewal fee in 2018 (allegedly due to a glitch in GoDaddy's billing), so GoDaddy released the domain name. It was bought by a domainer who set up a gambling information site. Rigsby sued GoDaddy for a variety of claims. The district court dismissed his complaint. The Ninth Circuit affirms.
Lanham Act. "Rigsby's suit under § 1125(a) is essentially a repackaging of secondary liability claims, targeting the domain registrar directly for the acts of the registrant." Rigsby did not make the required showing of "use in commerce" to support the direct claim. As did the District Court, the 9th Circuit sidesteps that the non-trademark Lanham Act claim should be covered by Section 230 per its Malwarebytes ruling.
Furthermore, GoDaddy qualifies for the registrar immunity in the ACPA. "Rigsby has not plausibly alleged that GoDaddy registered, used, or trafficked in his domain name with a bad faith intent to profit, nor has he plausibly alleged that GoDaddy's allegedly wrongful conduct surpassed mere registration activity."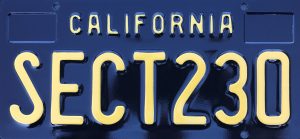 State Law Claims. Section 230 applies to Rigsby's claims for invasion of privacy, publicity, trade libel, libel, and violations of Arizona's Consumer Fraud Act.
ICS Provider. GoDaddy qualifies as a domain name registrar and website hosting provider.
Publisher/Speaker Claims. "The third-party registrant—arguably an information content provider—is the one posting the content, not GoDaddy. Section 230 shields GoDaddy from publisher liability when another party is doing the speaking." Cite to Ricci.
Third-Party Content. "Rigsby's complaint is devoid of allegations that GoDaddy contributed to the content of the gambling site. GoDaddy is offering only a domain name and a platform…. Rigsby does not allege that GoDaddy required or otherwise induced the third-party registrant to post the objected-to gambling content on scottrigsbyfoundation.org. GoDaddy's 'act' was limited to providing the third party a domain name."
Throughout the opinion, the Ninth Circuit waffles on GoDaddy's precise relationship with the domainer–whether it had acted as the domainer's registrar, domain name host, and/or web host. It likely wouldn't matter to the legal conclusions, but it does make the court's statements (and my blog coverage of the case) less precise.
Case citation: Rigsby v. GoDaddy, Inc., 2023 WL 1489914 (9th Cir. Feb. 3, 2023). The complaint.