Section 230 Helps Facebook Easily Defeat Claims Over a User's Post–Richard v. Facebook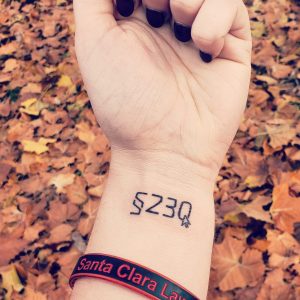 A former employee, Malepeai, posted negative remarks on Facebook about his past employer and his family. The past employer sued Facebook for defamation, civil conspiracy, outrage, and intentional infliction of emotional distress. This direct assault on Facebook for third party content is a throwback, the kind of case we used to see more like 15 years ago. As you'd expect, without any new Section 230 workaround arguments from the plaintiff, the case is an easy win for Facebook. Facebook wins on jurisdictional, Section 230, and prima facie grounds.
I'll focus on the Section 230 defense. The court is bound by the Fourth Circuit, which has a number of great Section 230 rulings, including the seminal Zeran case and the highly quotable Nemet Chevrolet ruling. As the court correctly acknowledges, "Courts routinely dismiss lawsuits against interactive computer service providers given the protections afforded under the CDA," which is what the court does here. The court applies the familiar three-prong test:
* ICS provider. This wasn't in dispute.
* Third-party content. "Malepeai, not Facebook, provided the content at issue in this case."
* Publisher/speaker claims. "Plaintiff's claims are predicated entirely on allegations that Facebook 'published,' and failed to block or remove, allegedly defamatory statements posted by Defendant Malepeai." The court then shows how the complaint explicitly referenced the verb "publish" when framing each claim (Oops).
In an attempt to salvage the case, the plaintiff argued that Section 230 doesn't apply to outrage and intentional infliction of emotional distress. The court summarizes: "the thrust of his argument seems to be that CDA immunity does not apply if the material published is particularly offensive, or if an interactive computer service provider is asked to remove allegedly offensive content but does not." This argument goes as well as you'd expect. The court says that numerous courts have applied Section 230 to offensive content; and notice of problematic content is irrelevant to Section 230.
In a last-ditch effort, the plaintiff suggested that Section 230 is unconstitutional. The court summarily rejects this.
And in another last-ditch effort, the plaintiff said that the Section 230 should be deferred until after discovery. The court, citing directly applicable language in Nemet, disagrees.
There is other good stuff about the prima facie elements and personal jurisdiction.
Case citation: Richard v. Facebook, Inc., C/A No. 2018-CP-2606158 (S.C. Court of Common Pleas May 22, 2019)