Court Rejects Service of Process Via Amazon Messaging–Noco v. Chang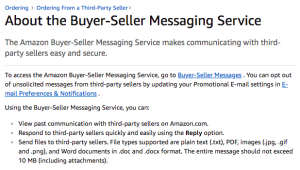 This is a trademark infringement lawsuit. Plaintiff alleges that defendant improperly uses plaintiff's brand name to sell infringing or counterfeit products "entirely online through [an] Amazon merchant account." Defendant used the merchant account named "Co2Crea," and defendant also applied to register a trademark in the same name. The trademark application lists an address in China.
Plaintiff tried to get defendant to waive service but did not receive a waiver. Plaintiff went so far as to deliver a waiver package via Fedex to a Chinese address. Having not obtained a waiver, plaintiff seeks permission under Rule 4(f) to serve via Amazon's messaging platform.
The court rejects the motion, although the rejection is without prejudice. The court says that since the defendant is located in China, the Hague Convention applies. Article 10 of the Hague Convention establishes "alternative service methods" but apparently China objected to those. Thus, if you're serving in China using the Hague Convention, you have to effect service through the "Ministry of Justice" in China.
The court says that under Rule 4, if a treaty requires a specific type of service, then that method must be used. In this case, China's implementation of the Hague Convention requires use of the Ministry of Justice and requires delivery in the country, so this method must be used. On the other hand, the court says that if the address of the person to be served is unknown or if the operative treaty does not require in-country delivery, then the court may look to alternate means, such as email.
Plaintiff made a few arguments as to why it should be allowed to use the Amazon platform. First it says that defendant's address is unknown. The court says this is contrary to the record. The fact that defendant did not respond to the request for waiver is not evidence regarding the address in question.
Plaintiff also argues that if email service is not prohibited by the Hague Convention, then service via Amazon platform should not be either. The court says:
This argument also fails. In this case, following the "internationally agreed"-to means of service specified by the Hague Convention is mandatory. Because Plaintiff has not yet attempted service through the Hague Convention under Rule 4(f)(1), there is no need to resort to other service methods under Rule 4(f)(3).

Requiring Plaintiff to wait many months for service feels shockingly out-of-step with today's fast-paced e- commerce. However, the Court's hands are tied. Plaintiff NOCO must serve Defendant Chang through China's Ministry of Justice.
__
Ouch. This seems like an unnecessarily harsh result. The plaintiff would have been better off conducting a minimal investigation and coming to court and seeking to serve via the Amazon platform.
It's unclear whether the court's refusal to authorize service via this platform is specific to China. In a footnote, the court says that the Hague Convention's reference to "postal channels" does not include email, and a country's objections to Article 10 do not prevent email service. I read this to say that the court simply does not equate service via the Amazon platform to email service. In any country that objects to Article 10, you can either do email service or take the traditional route. Either way, it's a big hassle for plaintiffs, especially considering they are trying to get an allegedly rogue seller shut down.
Particularly where online accounts are involved, it's useful to be able to use email service. I previously blogged about a case where a court declined to allow service via Facebook. There, the court had concerns about the reliability of a Facebook profile and the fact that in that case it wasn't necessarily used exclusively for business purposes.
Case citation: Noco Co. v. Chang, 2019 U.S. Dist LEXIS 83085 (N.D. Ohio May 16, 2019)
Related posts:
Bank Can't Use Facebook for Service of Process — Fortunato v. Chase Bank
Court Rejects Plaintiff's Proposal of Class Notice via Twitter, SMS, and Email — Jermyn v. Best Buy