If Your Trademark Case Depends on Showing Initial Interest Confusion, Save Your Money–Select Comfort v. John Baxter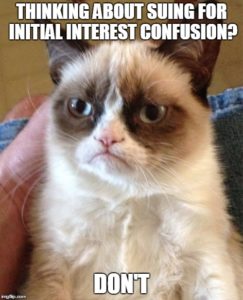 I've bashed the initial interest confusion doctrine for decades. It's one of the worst doctrinal "innovations" in trademark law–ever. However, you might have noticed that I haven't blogged many initial interest confusion cases recently. Why? Because the phrase rarely shows up in court opinions any more. (I have an email alert in Westlaw for the phrase, so I see all the cases). I think this paucity is due to the fact the doctrine almost never wins in court, and trademark owners are getting the message that they should stop relying on it. I still need to write the definitive article declaring the doctrine dead, but it really is. Good riddance.
Today's case comes on post-jury motions in one of several litigation battle royales in the mattress industry. (Aside: I HATE blogging mattress cases because players in that industry litigate to the death, resulting in overlong opinions). The jury found that "Defendants did not infringe Select Comfort's trademark rights in SLEEP NUMBER, WHAT'S YOUR SLEEP NUMBER?, SELECT COMFORT, or COMFORTAIRE." Select Comfort sought to overturn the jury verdict based on the initial interest confusion doctrine. The court says no (emphasis added):
Select Comfort first argues that the Court erred by not allowing it to pursue an 

initial

 

interest

 claim. Select Comfort argues that it should have been allowed to pursue the theory that significant 

confusion

 at the 

initial

 point that consumers viewed on-line advertisements is all that was required to establish liability under the Lanham Act, and that it was error to instruct the jury that a showing of a likelihood of 

confusion

 at the time of purchase was required. Defendants argue that the Court's rulings on the 

initial

 

interest

 doctrine were correct.
In its order granting in part and denying in part the parties' motions for summary judgment, the Court held that Select Comfort's trademark infringement claim requires a showing of a likelihood of 

confusion

 at the time of purchase. In so holding, the Court explained that in 

Sensient Techs. Corp. v. SensoryEffects Flavor Co.

, 613 F.3d 754, 766 (8th Cir. 2010), the Eighth Circuit declined to formally adopt the "

initial

 

interest 

confusion

" doctrine and explained that "even if the doctrine applied generally in this circuit, it would not apply" where, "although the products are similar, … the customers are sophisticated and exercise a relatively high degree of care in making their purchasing decisions." 

Id.

 As explained previously, the 

initial 

interest

 doctrine would not apply to the facts of this case because the beds at issue were purchased on-line and are expensive, suggesting that consumers would exercise a high degree of care in making any such purchase. The Court discerns no error in its ruling on 

initial

 

interest

 

confusion

. Importantly,

the Court notes that it did not hold that 

initial

 

interest

 

confusion

 was irrelevant to the issue of whether there was a likelihood of 

confusion

 (or that the jury could not consider evidence of such 

confusion

), but only that such 

confusion

 alone would not result in liability

. Moreover, Select Comfort's theory of liability in this case centers on the contention that Defendants capitalize on consumers being 

confused

 

initially

 at the point-of-click on-line, thus diverting the consumers to Defendants' website and then fostering that 

confusion

 and/or replacing it with false claims. Select Comfort was free to submit evidence of point-of-click 

confusion

 to support a showing of likelihood of 

confusion

 between the purchasing alternatives at the time of purchase.
This is a sensible result. I'm OK when a trademark owner shows that competitive ads contributed to an overall likelihood of confusion. Select Comfort should do that. Apparently it could not. Otherwise, a free tip to trademark owners: if your entire infringement case is based solely on establishing initial interest confusion, you're better off putting your money into your mattress.
Case citation: Select Comfort Corp. v. John Baxter, 2018 WL 6529493 (D. Minn. Dec. 12, 2018)