Q2 2018 Quick Links, Part 3 (Privacy, Advertising, E-Commerce)
Privacy
* Financial Times: How the wealthy use privacy laws to keep out of the news. GDPR as a pro-censorship tool
* Techdirt: Companies Respond to the GDPR By Blocking All EU Users 
* Financial Times: Data protectionism: the growing menace to global business
* Politico: 'Too inconvenient': Trump goes rogue on phone security
* NY Times: U.S. News Outlets Block European Readers Over New Privacy Rules
* Nextgov: The government's big idea to bolster the nation's collective cyber defense isn't attracting private-sector participants.
* Burke v. New Mexico, 2018 WL 2134030 (D. N.M. May 9, 2018)
Plaintiff has failed to state a claim for violation of her Fourth Amendment right to privacy because she has no reasonable expectation of privacy in the information she shared on her CaringBridge webpage. Plaintiff's webpage was viewable to any member of the public, so long as that person had a registered CaringBridge account. This was neither the least restrictive setting (under which a user's page would be publicly searchable and viewable) nor the most restrictive setting (under which a user's page could be viewed only by those accounts she preapproved). Plaintiff acknowledges she was aware of the three privacy options and selected the one that best fit her needs. Defendants did not obtain the contents of Plaintiff's website by contacting CaringBridge itself, for example, nor by using the credentials of a person to whom Plaintiff had granted viewing privileges. Any member of the public with a CaringBridge account could view Plaintiff's webpage, and Defendants did. It is not material, for purposes of assessing the viability of Plaintiff's Fourth Amendment claim, that Plaintiff apparently assumed no one but her friends and family would access her page. Plaintiff rightly points out that a person does not necessarily "surrender[ ] all expectation of privacy" just because she conveys information over the internet. Indeed, I do not find that a violation could never result from obtaining information posted to a social media page. But the facts before me are that Plaintiff did not make her account private or accessible only to those she invited to view it. Plaintiff has no reasonable expectation of privacy in information that she made publicly accessible.
Advertising
* James Hawkins and Renee Knake, The Behavioral Economics of Lawyer Advertising: An Empirical Assessment
The attributes promoted in lawyer ads: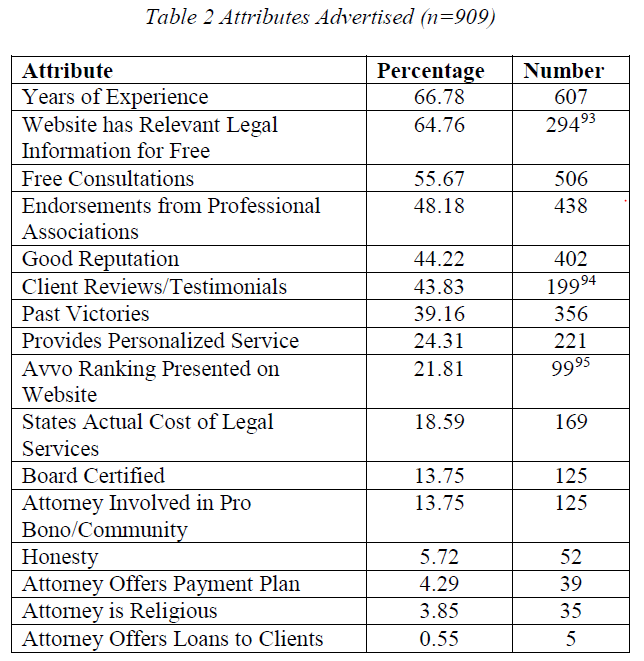 The additional information resources promoted on lawyers' websites: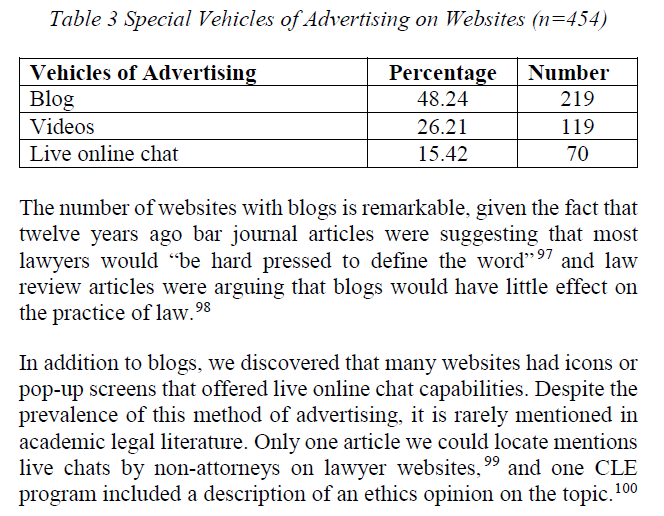 * USA Today: We read every one of the 3,517 Facebook ads bought by Russians. Here's what we found
* DigiDay: 'Amateur': Advertisers size up the Russian-linked Facebook ads
E-Commerce
* Buzzfeed: Real People Are Turning Their Accounts Into Bots On Instagram — And Cashing In
* Buzzfeed: Inside The Ecosystem That Fuels Amazon's Fake Review Problem
* WSJ: Why Empty Seats at Taylor Swift's Concerts Are Good for Business
* WSJ: Buyer Beware: Hundreds of Bitcoin Wannabes Show Hallmarks of Fraud
* Washington Monthly: The Libertarian Who Accidentally Helped Make the Case for Regulation