Conference on IP Enforcement at Trade Shows, UNLV, October 4, 2018 (Guest Blog Post)
by guest blogger Marketa Trimble
The practice of IP law fascinates IP law enthusiasts, and it can be stimulating for others as well. The practice has even been considered exciting enough for IP lawyers to be portrayed in a sophisticated beer ad and a feature film. Recently, real IP lawyers appeared in an entertaining yet educational trademark-related video (although apparently IP lawyers were used only as background extras).
Among the many roles played by IP lawyers, one stands out as particularly action-packed: protecting and enforcing IP rights at trade shows. A 2016 Bloomberg video report illustrates the IP action that might take place at a trade show; the video shows U.S. federal marshals enforcing a temporary restraining order ("TRO") issued against a Chinese exhibitor at CES in Las Vegas. IP rights owners such as the California startup in the report request TROs for trade shows because the shows provide infringing products wide exposure to large international audiences, and this exposure creates a snowball effect that IP rights owners might not be able to stop once the show is over.
IP rights at trade shows are a lot of work for IP lawyers: Exhibitors must be IP ready, which means scanning for potential infringers, obtaining TROs, securing enforcement of TROs, and also defending against IP rights infringement claims. Trade shows can produce high adrenaline for even the most tranquil of patent practitioners who, in the trade show context, can face last-minute drafting of provisional patent applications for inventions that their clients plan to exhibit at trade shows – but for which the clients had not already filed patent applications. Unless the clients abandon the possibility of patent protection for the inventions, they must file a patent application before their inventions are made available to the public.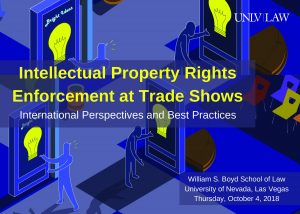 There has been no venue for IP lawyers to discuss the trade show-related practice of IP law – until now. The conference "Intellectual Property Rights at Trade Shows: International Perspectives and Best Practices" will provide such a venue; it will be held on October 4, 2018, at the William S. Boyd School of Law at the University of Nevada, Las Vegas. Conference panelists will include judges, attorneys, and lawyers for trade show operators from the United States and other countries who will discuss various aspects of trade show-related IP law practice.
An issue at the top of the list for the conference is the effect of the 2006 U.S. Supreme Court decision in eBay and its progeny on the availability of trade show-related TROs. As I discuss in one of my forthcoming articles on this topic, eBay and later decisions have made it difficult to obtain TROs for trade shows because it is usually difficult to show a likelihood of irreparable harm ahead of a trade show. But this showing must be made, because courts must no longer presume a likelihood of irreparable harm solely because of the existence of a valid IP right and the likelihood of proving infringement of the right. INTA has proposed an amendment to the Lanham Act to reinstate the presumption for trademarks, and in my article, I debate whether a rule adjustment might also be warranted for trade show situations.
Experiences in large trade show venues in other countries could be instructive for U.S. trade shows, and the Conference will discuss experiences abroad; my second article on IP rights at trade shows discusses several examples. For instance, courts in some venues adopt special local rules and procedures to streamline the processing of requests for rapid relief at trade shows. The Division of Patent Disputes of the District Court (Landgericht) in Braunschweig, Germany, has offered since 1967 a special standby service (Bereitschaftsdienst) for selected trade shows held in Hannover, including CeBIT. The Commercial Courts of Barcelona, which handle disputes arising at trade shows such as the Mobile World Congress, conduct proceedings in trade show-related disputes based on a special rapid action protocol.
Of particular interest might be the ADR mechanisms that some trade show operators have developed outside the United States. Trade show operators in the United States do have mechanisms to handle IP violations, but none of the operators seem to have developed ADR mechanisms to the degree that mechanisms have been developed by Baselworld and Palexpo in Switzerland. The Baselworld trade show ADR mechanism is legendary; Baselworld's specialized Panel has handled IP rights disputes since 1985. Palexpo Trade Fairs SA has partnered with the World Intellectual Property Organization's Arbitration and Mediation Center and launched the WIPO Fast-Track Procedure for IP rights disputes; the Procedure has been available at the International Motor Show at Palexpo in Geneva each year since 2015.
To learn more about IP rights at trade shows, save the October 4, 2018 date to join us in Las Vegas for the Conference on trade show-related IP law practice. As I point out in the Conference description, "[w]ith some 260 million visitors attending trade shows worldwide annually, the annual global trade shows audience, taken as a group, would constitute the fifth most populated country in the world" – and the impact of the IP rights practice extends far beyond trade shows.