California Assembly Hearing, "Balancing Privacy and Opportunity in the Internet Age," SCU, Dec. 12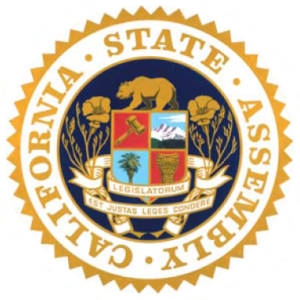 Santa Clara University is hosting a joint hearing of the California State Assembly's Judiciary Committee, Business, Professions And Consumer Protection Committee, and Select Committee On Privacy on December 12, 2013, 9 am to 1 pm. The hearing is entitled "Balancing Privacy and Opportunity in the Internet Age," and the agenda is below. RSVP for free here. I really hope you can make it in person, but if you can't, we are planning to livestream the event here. We are also planning to live-tweet the event at the High Tech Law Institute twitter feed.
I am thrilled we are able to host this event. The California legislature, housed in Sacramento, has taken a huge interest in regulating the Internet. Last term, an astounding 215 proposed bills contained the word "Internet"! Although Sacramento is only 2 hours away, it's far enough that Silicon Valley voices aren't omnipresent in the legislative deliberations. Thus, the fact that members of the legislature are coming to the Silicon Valley to engage in important discussions is a huge step forward in bridging the communications gap. Please come!
As you can see from the schedule below, I will presenting at the hearing. I've blogged repeatedly–and never favorably–about the California legislature's regulatory assault on the Internet. Six posts from the past 2 years that immediately came to mind:
* How California's New 'Do-Not-Track' Law Will Hurt Consumers
* California's New Law Shows It's Not Easy To Regulate Revenge Porn
* California's Latest Effort To 'Protect Kids Online' Is Misguided And Unconstitutional
* California's New 'Online Eraser' Law Should Be Erased
* Big Problems in California's New Law Restricting Employers' Access to Employees' Online Accounts
* Did California Unintentionally (?) Impose New Statutory Duties on Every Blogger? A Post on the Newly Enacted California Reader Privacy Act
[UPDATE: I put these posts together into a single PDF. Bring the asbestos glasses).
(Oh yeah, almost forgot my recent screed against the Song-Beverly law).
Yes, I plan to share my strong views about California's privacy regulatory efforts at this hearing, and no, I don't plan to mince words (though I have promised the organizer that I'll try not to drop any f-bombs at the hearing). Hope to see you at the hearing!
______
The Agenda
Balancing Privacy and Opportunity in the Internet Age
An Informational Hearing of the Assembly Judiciary Committee, the Assembly Business, Professions & Consumer Protection Committee, and the Assembly Select Committee on Privacy
December 12, 2013: 9:00am – 1:00pm
The Louis B. Mayer Theater at Santa Clara University
I. Dean Kloppenberg's Welcome and Chairs' Opening Remarks (10 minutes)
II. Personal Information, Privacy and the Internet: An Overview (1 hour)
Why Privacy Matters in the Internet Age – Or Does It? The Collection, Aggregation and Sale of Personal Information Online, and Its Impacts on Privacy
How is personal information being collected, used and shared online, and how does the market for personal information operate? Is there a common understanding about what personal information should be protected, and if not, why not?
What, if any, are the major privacy risks posed by Big Data? Are the major risks actually "downstream"?
Do we have a sense of what Californians currently think about online privacy issues?
How does California's notice-based approach to privacy compare with other states and countries, and what are the pros and cons of seeking to move to a more "opt-in"-type approach?
What might be some of the major privacy challenges in a "post cookies" world?
Panelists:
• Paul Schwartz, Co-Director, UC Berkeley Center for Law & Technology
• David Lieber, Privacy Policy Counsel, Google
• Deirdre Mulligan, Co-Director, UC Berkeley Center for Law & Technology
• Michael Beckerman, President and CEO, The Internet Association
III. Are Disclosure-based Approaches to Privacy Protection Working, and If Not, Should They Be Improved, or Should Other Approaches Be Considered?
Privacy Policies: Does Disclosure & Transparency Adequately Protect Consumers' Privacy? (45 minutes)
What is currently required of online privacy policies?
What impact, if any, are current privacy policies having on consumer knowledge and decision-making?
What are the current limitations of privacy policies, could they be made more effective, and should alternative or additional consumer education approaches be considered?
Panelists:
• Aleecia M. McDonald, Director of Privacy, Stanford Center for Internet and Society
• Jules Polonetsky, Executive Director and Co-Chair, Future of Privacy Forum
• Chris Hoofnagle, Director, Information Privacy Programs, UC Berkeley Center for Law & Technology
~ Break ~
(10 minutes)
California's 'Shine the Light' Law: (45 minutes)
Has the state's Shine the Light law been effective in helping to protect privacy online, and if not, why not?
What more, if anything, should be done to provide consumers with potentially useful information and control regarding the use of their personal information?
Panelists:
• Joanne McNabb, Director of Privacy Education and Policy, California Department of Justice
• Jim Halpert, Co-Chair, Global Privacy Practice, DLA Piper Lewis
• Chris Conley, Technology and Civil Liberties Fellow, American Civil Liberties Union
IV. Looking Forward: Future Privacy Challenges and Possible Government Responses (30 minutes)
Future Challenges and Responses:
What may be the major privacy challenges Californians could face in the next 5-10 years, and how if at all should government and industry partner to address them?
What if anything can we learn from the experience of other states and countries as to how best to respond to these privacy challenges?
What are the potential trade-offs and hurdles that policy makers need to consider as we look to the future?
Panelists:
• Deirdre Mulligan, Co-Director, UC Berkeley Center for Law & Technology
• Eric Goldman, Director, Santa Clara High Tech Law Institute
V. Public Comment (20 minutes)
VI. Chairs' Closing Remarks (10 minutes)
VII. Post-Hearing Community Reception With Committee Members Adjacent to Theater (30 minutes)