Competitive Keyword Advertising Lawsuit Survives Motion to Dismiss–Elcometer v. TCQ-USA
By Eric Goldman
Elcometer, Inc. v. TQC-USA, Inc., 2013 WL 1433388 (E.D. Mich. April 9, 2013)
There are so many competitive keyword advertising lawsuits that I can't track them systematically, but I'll still blog them when I see them.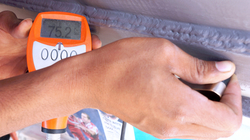 The parties compete in the "thickness gauge" industry. The defendants sell the brand "Paintmeter." Defendants allegedly bought the AdWord keyword on the rival brand "Elcometer" and ran the following ad:
Elcometer Meters & Rentals * Paintmeter.com

www.paintmeter.com/

Call 18009742492 We Sell PaintMeters & Rent Coating Inspection Equipment
The plaintiff alleges that potential customers who clicked on the link or called the 800 number were given more information that perpetuated possible confusion about the relationship between Elcometer and Paintmeter.
The court says that the plaintiff properly pled trademark infringement, Lanham Act false advertising and a violation of the Michigan Consumer Protection Act, and therefore it denied a motion to dismiss. The court also rejected the manufacturer's effort to avoid responsibility for its distributors' conduct.
This case reminded me a little of Promatek v. Equitrac and the Network Automation case. In Promatek v. Equitrac, the court dealt with a situation where the defendant both sold its own equipment and provided servicing for its rival's equipment. The court screwed up the ruling, but to me, it's perfectly legitimate to advertise the plaintiff's trademark if the defendant services its equipment. Similarly here, if the defendant vended both its own equipment and its rival's equipment, the ad copy could be fine.
In Network Automation, the case involved a situation where the customers may have fully understood the relationship between the defendant's and plaintiff's respective brands. It's possible that thickness-gauge customers are well-versed about these brands and their relationships. However, unlike Network Automation, the defendants used the trademark in the ad copy, and that may make this case harder to defend.
Related Tertium Quid posts:
* Amazon's Merchandising of Its Search Results Doesn't Violate Trademark Law
* Buying Keyword Ads on People's Names Doesn't Violate Their Publicity Rights
* With Its Australian Court Victory, Google Moves Closer to Legitimizing Keyword Advertising Globally
* Yet Another Ruling That Competitive Keyword Ad Lawsuits Are Stupid–Louisiana Pacific v. James Hardie
* Another Google AdWords Advertiser Defeats Trademark Infringement Lawsuit
* With Rosetta Stone Settlement, Google Gets Closer to Legitimizing Billions of AdWords Revenue
* Google Defeats Trademark Challenge to Its AdWords Service
* Newly Released Consumer Survey Indicates that Legal Concerns About Competitive Keyword Advertising Are Overblown
[Photo Credit: Men hand held the dry film thickness gauge to check the coating thickness // ShutterStock]