It's Legally Okay if Google Thinks Your Name and Erectile Dysfunction Drugs Have Something to Do With Each Other (Forbes Cross-Post)
By Eric Goldman
Stayart v. Google Inc., 2013 WL 811793 (7th Cir. March 6, 2013).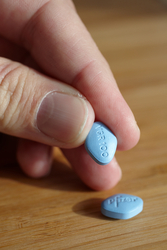 Would you be upset if people searching for your name are prompted to search for your name plus the name of an erectile dysfunction drug like Viagra or Cialis?  For example, if you search for "Eric Goldman," a search engine might suggest that you search for "Eric Goldman Viagra."  I suspect many of us would never discover that the search engines were doing this, and those who did would find it perplexing but amusing.
(The reasons why a search engine might make this suggestion aren't complicated or nefarious.  "Sploggers" build web pages that remix content from legitimate web pages as search engine "bait" to attract searchers to pages that advertise or link to illicit goods such as pharmaceuticals that require a prescription.  As a practical matter, splogged pages don't show up well in search results, but they may influence the search engine's suggestion algorithms anyway).
As it turns out, this scenario isn't hypothetical.  Google suggested that searchers on "Bev Stayart" (a/k/a Beverly Stayart) search for "bev stayart levitra" (Levitra is an erectile dysfunction drug).  See the recent screen shot on the right.  Many of us would shrug this off;  in contrast, this situation has launched Bev Stayart into a multi-year, multi-lawsuit campaign against Google and Yahoo (see this page for my chronicle of her lawsuits and related suits).
None of her lawsuits have made any progress at all.  Last week, she notched yet another loss in court.  The Seventh Circuit Court of Appeals dismissed her lawsuit–again–in a brief and unceremonious opinion befitting the lawsuit's lack of merit.
Stayart argued that Google's suggestions using her name violated her publicity rights under Wisconsin's publicity rights statute.  There are probably a dozen reasons why this claim should fail, but the court explores only two.
First, Wisconsin's law permits the commercial use of a person's name when it's newsworthy or in the public interest.  The court says that exception applies to Stayart because her ongoing litigation crusade has caused her name to be associated with erectile dysfunction drugs, and people have a legitimate right to search for court records related to her case.  The fact that Bev Stayart's vanity search results now suggest erectile dysfunction pills is a predictable Streisand Effect of her litigation, but the court is uncomfortably "punishing" a plaintiff for enforcing his/her rights.  Further, the court's rationale is specific to Stayart, and thus may not apply to other cases.
Second, the Wisconsin statute requires that the commercial use be "substantial" and not "incidental."  In a terse and unenlightening paragraph, the court says that Stayart didn't convince the judges that Google's search results made more than an incidental commercial use of Stayart's name.
Rather than rely on these technicalities, the court should have looked to the Wisconsin Court of Appeals, which just issued an opinion in Habush v. Cannon (not cited by the 7th Circuit) that buying keyword ads on a person's name doesn't constitute a commercial "use" of the name under Wisconsin's publicity rights statute.  While the Habush opinion partially relied on the invisible nature of the keyword triggering, I think its logic should broadly apply to all organic search activity.  In contrast, because of the Stayart court's narrow rationales, it's unclear how the opinion will apply to other cases.
Still, I think a favorable macro-trend is emerging for Google, Yahoo, Bing and other search engines.  Putting aside the legal machinations of how they get there, courts are not receptive to legal attacks on organic search operations, whether the claim is based on defamation (see, e.g., the futile lawsuit by Dr. Hingston), trademark law or publicity rights.  Thus, the Stayart ruling is philosophically consistent with the recent opinion in Multi-Time Machine v. Amazon, which rejected a trademark lawsuit over Amazon's search results merchandising of other vendors' goods.  These rulings reinforce that plaintiffs suing to force changes to organic search results–or the search engine's suggestions of alternatives–are almost certainly doomed to fail in court, one way or another.
[Photo Credit: Sean Nel / Shutterstock.com]