Lindsay Lohan Loses Publicity Rights Claim Against Pitbull Over Song Lyrics–Lohan v. Perez
By Jake McGowan [writings][LinkedIn]
Lohan v. Perez, No. 11-CV-5413 (E.D.N.Y. 2013)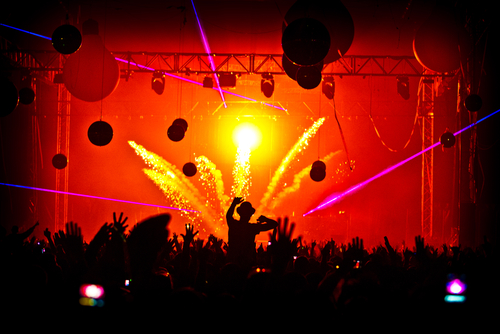 Lindsay Lohan just can't catch a break.
In 2007, after a string of unsuccessful movies and a long battle with substance abuse, Lohan found herself on probation for two drunk driving incidents. Since then she has had multiple stints in rehab, probation violations, and other legal trouble stemming from a necklace theft. Unfortunately for Ms. Lohan, it now seems she is equally unsuccessful as a plaintiff.
The former child star recently brought a publicity rights lawsuit under New York law against Miami rapper Pitbull and R&B singer Ne-Yo, along with others responsible for mentioning her name in the hit song "Give Me Everything."
On February 21, a district court in New York dismissed the complaint and even sanctioned Lohan's attorney.
Background
The song in controversy is Pitbull's "Give Me Everything," featuring Ne-Yo, Afrojack, and Nayer. The lyrics referencing Ms. Lohan appear about a minute into the song:
"So I'm tiptoein' to keep blowin'/ I got it locked up, like Lindsay Lohan."
(note: if you ever struggle in deciphering certain rap lyrics, check out the helpful and hilarious site RapGenius.com)
According to Lohan's complaint, this subtle jab damaged her because at all relevant times, she was "a professional actor of good repute and standing in the Screen Actors Guild" (sarcastic emphasis added). She alleged that the defendants violated Sections 50 and 51 of the New York Civil Rights Law, and she also brought claims for unjust enrichment and intentional infliction of emotional distress (IIED).
Lohan's Claim Fails to Satisfy the New York Civil Rights Law Requirements
New York does not have a common-law right of privacy, so Lohan's only option was to try for the limited statutory protection under Sections 50 and 51 of the New York Civil Rights Law. Under Section 50, it is a misdemeanor for a person to "use[ ] for advertising purposes, or for the purposes of trade, the name, portrait or picture of any living person without having first obtained the written consent of such person."
In this case, the court found a few glaring problems with Lohan's complaint:
(1) the First Amendment protects the song as a work of artistic expression; and
(2) Lohan's name was not used in the song "for advertising purposes, or for the purposes of trade."
The court referenced the 2002 New York case Hoepker v. Kruger, agreeing that the First Amendment presents a complete defense:
"'pure First Amendment speech in the form of artistic expression . . . deserves full protection, even against [another individual's] statutorily-protected privacy interests.'"
Because music is considered artistic expression, Pitbull's use of Lohan's name is protected as part of "Give Me Everything," the veritable work of art. Also, the name-dropping is so simple and isolated that the court refuses to believe that it was meant for purposes of advertisement or trade.
Lohan's Unjust Enrichment and IIED Claims Also Fail
The court dispatched Lohan's unjust enrichment claim quickly, suggesting that she was trying to invent a non-existent common law claim by merely recasting the statutory claim under the New York Civil Rights Law.
The IIED claim shared a similar fate:
Accepting plaintiff's allegations as true . . . even if defendants used plaintiff's name in one line of the Song without her consent, such conduct is insufficient to meet the threshold for extreme and outrageous conduct necessary to sustain a claim for [IIED].
______________
This is not the first time Lohan has used the legal system to vindicate her publicity rights. In 2010, she brought a similar claim against E-Trade Bank for its Super Bowl ad referencing "that milkaholic Lindsay." In that case, she asked for $100 million. It's rumored she made some money when it settled out of court.
With that in mind, it seems pretty clear that Lohan and her attorneys thought they could go back to the well with a weak lawsuit. This time, however, the meritless claims actually came back to bite Lohan's attorney.
In a strange turn of events, the court fined Lohan's attorney Stephanie Ovadia $750–not for filing frivolous claims, but because she plagiarized "a vast majority of the Opposition . . . from other sources without any acknowledgment or identification[.]"
On the other hand, the court also took issue with defendants' counsel sitting on this information:
The Court also notes, parenthetically, that it is underwhelmed by the nature of defendants' counsel's conduct upon learning of plaintiff's counsel's plagiarism. Defendants' counsel recognized the existence and extent of the plagiarism as early as March 9, 2012 . . . Defendants' counsel certainly had the option of raising the issue with plaintiff's counsel, thereby affording plaintiff's counsel the opportunity to withdraw the Opposition and request leave from the Court to amend the opposition papers. Instead, the first time defendants' counsel raised the issue was when they filed the fully-briefed motion to dismiss and highlighted the plagiarism as part of the reply papers.
As Marty Schwimmer points out on his blog, this raises the interesting question of whether the defendants' counsel has a duty to warn its opponent, or whether they can let their adversary shoot themselves in the foot.
Either way, it looks like the drafting was as weak as the purported basis for the complaint. These claims never stood much of a chance.
[Photo Credit: Anthony Mooney / Shutterstock.com]