Technology & Marketing Law Blog
« October 2006 | Main | December 2006 »
November 30, 2006
Search Engine Law Conference in Haifa, Israel
I am participating in an intriguing conference on search engine law being sponsored by the Haifa Center for Law & Technology on December 21. See the conference website. If you're going to be in Israel between December 17 and 27, please contact me. I would welcome the opportunity to see you.
Posted by Eric at 07:01 AM | Search Engines | Comments (1) | TrackBack
November 29, 2006
Nov. 2006 Quick Links
By Eric Goldman
My monthly roundup of noteworthy tidbits:
* Yesmail, an email outsource vendor, was busted by the FTC under CAN-SPAM for failing to honor opt-out requests because Yesmail's incoming email filters blocked those opt-out requests as spam. This strikes me as a particularly messy technological dilemma--even email outsource vendors need spam filters, but if those filters nab opt-out requests, the FTC isn't showing any sympathy. So it looks like email outsource vendors will need to use less vigilant spam filters or find some way to direct opt-out requests to a non-filtered email server.
* Best Western Int'l Inc. v. Doe, No. 06-1537 (D. Ariz. Oct. 24, 2006): griper defeats trademark infringement and dilution claims due to the lack of "use in commerce in connection with goods or services." (HT: BNA's E-Commerce and Tech Law Blog).
* Simmons v. Florida, SC04-2375 (Fla. Sup. Ct. Nov. 16, 2006). Very troubling ruling from Florida upholding the criminal conviction of a defendant for disseminating harmful to minors material online. First, breaking with an unbroken string of cases dating back to 1996, it upholds the state law prohibiting the dissemination of harmful to minor materials over the Internet from a Constitutional challenge. In the past, these laws uniformly have been struck down under the First Amendment or the Dormant Commerce Clause (or both). Second, the statute applies only to email, but it was used to bust someone communicating via instant message. These types of technology-specific statutes create these odd silos that create too much ambiguity. Declan's writeup.
* McDonald's is seeking a patent on using a "sandwich delivery tool" to deliver filling (like ham) to a "bread component." This could be the greatest thing since sliced bread!
* From Greg Linden's blog: Google surveys its users and they say they want more results per page. So Google tests a search results page with 30 results/page. The result? A 20% drop in traffic! Note that a 10-result page takes 0.4 seconds to load, while a 30-result page takes 0.9 seconds, so the working theory is that an extra 0.5 second latency deterred a lot of searching. This may give a little insight into why Google is fighting so hard on net neutrality. If Google does get relegated to a slow lane, it may lose lots of searches.
* A band called Bones registers a MySpace account at http://www.myspace.com/bones and, over the course of 2 years, accrues 2,100 friends. Fox, the owner of MySpace, decides that it would prefer to have that URL for its TV show Bones, so it boots the band and puts up a page for the TV show. Can Fox do this legally? It all depends on the contract (but I'm skeptical that the contract was this broad). For some background on taking virtual assets, see my prior discussion on the sex.com litigation and account ownership in virtual worlds. In any case, Fox relented and gave the URL back to the band. But this is a good reminder that, if you care about your web presence, don't build up goodwill in a URL controlled by someone else.
* FTC busts Guidance Software for inadequate security. According to Internet News: Guidance's privacy policy said it "takes every precaution to protect our users' information," "your information is protected both online and offline" and it protected data "with the best encryption software in the industry – SSL." Yet, Guidance suffered a security breach that resulted in the leak of 4,000 credit card numbers; and the breach wasn't detected for 3 months. I'm not entirely sure what to make of this--was this enforcement action based solely on overstatements in the privacy policy, or was it based on poor security practices regardless of the privacy policy? My vote is that it's the latter based on the BJ's Wholesale Club precedent.
* A consumer group filed a complaint against Zillow for doing a lousy job of providing valuation estimates. While Zillow's estimates may be poor, this complaint raises some troubling concerns about the liability associated with any web-based price estimate service. Could developments in this matter affect Google's PageRank as a valuation of the worth of web pages?
* Ted Leonsis, vice chair of AOL, didn't like the search results when he vanity searched. So he vowed to improve his Google profile, launching a high volume blog that helped drive preferable results to the top of the list. My advice to Ted: enjoy the favorable placement while it lasts; you're only one Googlebomb away from disappointment.
* We are generally conditioned to think that every searcher gets the same search results for the same search. This model is progressively breaking down due to personalized search and other innovations. A catalog of reasons why search results vary for searchers. I eagerly await the time when courts recognize this fact when dealing with search engine cases!
* A DoubleClick study claims that 30% of consumers admitted that they sometimes click on banner ads, but 61% of consumers said that at least sometimes they made a mental note of the advertisers and followed up with them later. If true, this means that banner ads generate a lot more value than is measured by clicks alone. However, I wonder if this result should be chalked up to the "talk is cheap" category?
* It's like a well-worn joke: if you'll believe that, I've got a bridge to sell you. But no joke: they may be selling the Golden Gate Bridge--well, at least, corporate sponsorships for it. Of course, the bridge is so iconic that a brand owner could get significant goodwill from being associated with it. On the other hand, it's the world's leading suicide destination; not exactly the best corporate tie-in for many brands.
* According to one anti-spam vendor, "9 out of 10 emails now spam." At this rate, pretty soon it will be 11 out of 10 emails.
Posted by Eric at 11:47 AM | Content Regulation , Marketing , Patents , Privacy/Security , Search Engines , Spam , Trademark | Comments (4) | TrackBack
November 28, 2006
Google Personalized Search, 1 Year Later
By Eric Goldman
Exactly 1 year ago, I started using Google Personalized Search. Since then, Google Personalized Search has recorded 6,700 searches of mine--an average of over 18 searches a day, every day (including weekends and vacations), or over 1 Google search every waking hour. My highest daily total was at least 89 searches.
Clearly, from these 6,700 data points, Google should know a lot about me. Yet, I would rank the benefits of Google Personalized Search as low. In some cases, Google prioritizes specific search results that I've selected before (and tells me how many times I've selected that link), so it can help me find something when I'm revisiting a past search. Otherwise, I can't say that I've noticed any discernible benefits from their personalized search tool.
My suspicion of low efficacy is reinforced by Google's inability to make good inferences about me. In Google Trends, it shows me what it describes as the "top gaining queries related to your searches"--presumably, these are the search terms it thinks are associated with the search terms I've used. The top 10 today:
1. prime outlets
2. ucla taser
3. great mall
4. rhodes scholars
5. tofurky
6. tofurkey
7. marie calendars
8. dundee wisconsin
9. bakers square
10. odot
#5 and 6 surely must relate to my vegetarian-related searches, so this isn't too bad. #2 may somehow reflect my association with UCLA (good), but UCLA taser? (huh?) #1 and #3 are big outlet malls in the Bay Area, so they are geographically relevant and perhaps seasonally topical due to the holiday shopping season (although I haven't really been shopping this season). #7 and #9 are a little bizarre for a vegetarian--I'm sure I've done restaurant searches, but not for chains like this! I have no idea what triggered #8 or #10. So, on balance, it doesn't appear like Google is making very smart inferences about me based on the 6,700 searches I've provided it. For more on this point, see Greg Linden's similar comments on Google's recommendation engine explaining that Google is relying too heavily on geolocation instead of other personalization attributes.
One more interesting piece of data: Google Trends captures the times of my search, which visually illustrates my work habits. Unfortunately, the histogram is distorted by my move from Milwaukee to California mid-year; my Milwaukee activity was 2 hours ahead of this data.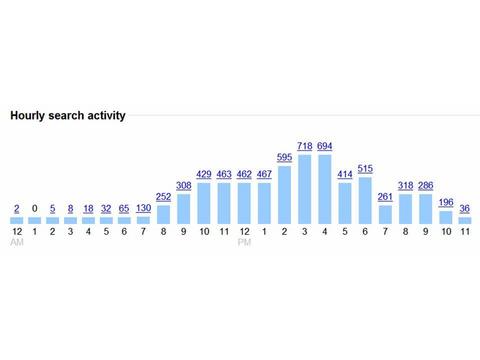 As you can see from this diagram, I generally get into the office between 9-10 am and then work at a constant rate for a few hours. Then, in the late afternoon, I really hit my stride, spiking at 3 pm--which was really 5 pm when I was in Milwaukee. In other words, my real work day begins about 5 pm. Then, there's a drop-off around 7 pm (5 pm on this chart when I was in Milwaukee), which is when I go home, and then a mini-resurgence between 9-11 after the kids are in bed.
At minimum, this data shows why I'll never be a great 9-5er. The 5-7 period is among my most efficient work period. When I first became a professor, I tried to come home at 5 pm regularly for a couple of weeks and I felt like I never got anything done. This chart partially explains why.
Despite this fun with graphics, I'm disappointed with Google Personalized Search. I will keep using it because it provides me limited benefits at no additional effort, but it's not really doing anything to increase my loyalty to Google.
One last point: I know some of you would interpret my experience as a good reason NOT to use personalized search because of the privacy risks associated with Google's aggregation of search results. I do worry about that, a tiny bit, in that I'm sure people would draw bizarre and potentially adverse inferences if they were to parse through my 6,700 searches. But I've made the deliberate choice that I'm not too worried about that risk personally--although I'm not going to publicize my search terms, I'm comfortable enough with their limited privacy protection in Google's hands.
Posted by Eric at 03:46 PM | Privacy/Security , Search Engines | Comments (1) | TrackBack
November 22, 2006
Fourth Circuit Rejects Anti-Spam Lawsuit--Omega World Travel v. Mummagraphics
By Eric Goldman
Omega World Travel, Inc. v. Mummagraphics, Inc., No. 05-2080 (4th Cir. Nov. 17, 2006)
Wow, what a huge ruling on spam from Judge Wilkinson in the Fourth Circuit! People--even judges--hate spam so viscerally that it's almost impossible to imagine an email marketer winning a lawsuit. Yet, the Fourth Circuit hands a big win to email marketers with 3 major rulings:
1) CAN-SPAM preempts Oklahoma's anti-spam law, because the "falsity and deception" exclusion to CAN-SPAM's preemption only covers fraud or other types of tortious misrepresentation, not garden-variety falsity or deception. Thus, at minimum, state anti-spam laws can't be used to pursue spammers for immaterial falsity or deception. Dozens of states have reenacted anti-spam laws post-CAN-SPAM relying on the "falsity and deception" standard. This ruling casts significant doubt on the enforceability of most of those reenactments. (See, e.g., this speculation that North Carolina's anti-spam law is now preempted).
2) Errors in the defendant's headers were "immaterial" and thus not actionable under CAN-SPAM. Specifically, "the messages' header information incorrectly indicated that the e-mails originated from the server "FL-Broadcast.net," and [] the messages' "from" address read cruisedeals@cruise.com, although that e-mail address was apparently non-functional" but the court says that these mistakes are immaterial because the "e-mails at issue were chock full of methods to "identify, locate, or respond to" the sender or to "investigate [an] alleged violation" of the CAN-SPAM Act."
3) A common law trespass to chattels claim fails when the plaintiff only alleges nominal damages. Specifically, the court says that "Mummagraphics failed to submit any evidence that the receipt of eleven commercial e-mail messages placed a meaningful burden on the company's computer systems or even its other resources" (cite to Hamidi). This finding is consistent with the recent trend to reject privacy-related lawsuits for lack of cognizable damages (see, e.g., In re JetBlue, Bell v. Acxiom and Key v. DSW). However, as far as I can recall, this is the first time a court has used Intel v. Hamidi to reject an anti-spam lawsuit for lack of email-attributable damages.
Unquestionably, the defendants benefited from having made a reasonably good faith effort to comply with CAN-SPAM, even if they didn't dot every i and cross every t. But even if they tried to be good actors, they are still allegedly spammers, which makes this result an amazing hat trick for the defendants--no liability under the Oklahoma state anti-spam law, CAN-SPAM or common law trespass to chattels. As Fourth Circuit precedent, surely this opinion will take some wind out of the sails of anti-spam plaintiffs.
Hat tip to Venkat for catching this. Venkat says:
The decision is important for one simple reason: anti-spam lawyers (and plaintiffs) often advance the exact arguments advanced by the plaintiff in this case. Lawyers on the other side know these arguments lack merit, but do not have any court decisions to back them up. As a result, a vicious settlement cycle results. This case probably represents the start of the tide turning in the other direction.
Check out Venkat's post for some other interesting analysis of the case.
UPDATE: Dan Solove weighs in, saying "The 4th Circuit holding makes the very narrow and ineffective CAN SPAM law even more narrow and ineffective."
Posted by Eric at 11:24 AM | Spam , Trespass to Chattels | Comments (1) | TrackBack
November 21, 2006
Griping Blog Post Leads to Lawsuit--BidZirk v. Smith
By Eric Goldman
BidZirk, LLC v. Smith, 2006 WL 3242333 (D.S.C. Nov. 7, 2006)
Despite all of the hype about blog law, the reality is that we've had comparatively few blog-specific lawsuits. As a result, we give extra attention to the early disputes (like this one) as possible predictors of what's to come.
This case involves a classic griping blog post. The author, Smith, runs a blog called Fix Your Thinking, which purports to cover "editorial news & news commentary covering eBay & Apple drama." On Dec. 31, 2005, he ran a lengthy post entitled "Special Report: You Gotta Be Berserk To Use An eBay Listing Company! The Whole Story " In this post, he relates his unfavorable experiences with BidZirk, one of the many companies that help people resell goods on eBay. As part of this post, he used BidZirk's logos several times.
In response to this gripe post, BidZirk sued Smith for Lanham Act violations, defamation and invasion of privacy. Smith fought back with unspecified counterclaims. At a March 16 hearing, Smith promised to remove all but one of BidZirk's logos. On April 10, the judge denied BidZirk's motion for a preliminary injunction because Smith's use of the trademarks was for news reporting and commentary (which isn't actionable under trademark law). BidZirk has appealed the denial of the preliminary injunction to the Fourth Circuit Court of Appeals.
In the Nov. 7 ruling, the judge evaluates BidZirk's motion to dismiss Smith's counterclaims for lack of federal subject matter jurisdiction. Smith's counterclaims relate to his experiences with BidZirk and their dealings in litigation, neither of which the court felt were close enough to BidZirk's claims over the blog post to mandate consolidation, and there was insufficient basis to support federal jurisdiction otherwise. Presumably, Smith can reflie his claims against BidZirk in an appropriate state court.
Putting aside the procedural technicalities, I'm still stuck on why the plaintiff brought this lawsuit in the first place. Smith posted a very idiosyncratic story to a relatively low-profile blog about a small eBay reseller with 3 storefronts in South Carolina. As a result, I assume that very few people would notice the post, let alone be influenced by it. The lawsuit just escalate the attention paid to the post. Meanwhile, I haven't been able to work through all of the facts, but on its face the trademark claim appears pretty bogus, and the defamation and invasion of privacy claims could be as well. So I have an especially difficult time understanding how this lawsuit is economically rational. Finally, given the website modifications that Smith has already made, I can't figure out why BidZirk thinks that a preliminary injunction is worth pursuing all the way to the Fourth Circuit.
Of course, there is always the possibility that this lawsuit is not about the merits and instead is just an abusive effort to punish a blogger for speaking out.... In any case, the seeming illogic of this lawsuit illustrates why there are comparatively few blog-related lawsuits. Most of the time, it just doesn't make sense to sue over a blog post.
Posted by Eric at 02:11 PM | Content Regulation , E-Commerce , Publicity/Privacy Rights , Trademark | Comments (4) | TrackBack
November 20, 2006
Barrett v. Rosenthal--California Issues Terrific Defense-Favorable Interpretation of 47 USC 230
By Eric Goldman
Barrett v. Rosenthal, S122953 (Cal. Supreme Ct. Nov. 20, 2006)
The California Supreme Court issued a tremendous defense-favorable opinion today interpreting 47 USC 230. This opinion makes two principal points.
First, it defines the word "user" in the statute, interpreting it broadly to mean anyone connected online. Thus, presumptively, everyone online is eligible for 47 USC 230 immunization.
Second, it revisits the debate over whether 47 USC 230 preempted only publisher liability or if it also preempted distributor liability. This case casts its vote with the vast majority of other courts, holding that 47 USC 230 preempts both. In a particularly savvy portion of the opinion, it notes that the publisher/distributor distinction was "developed in the post-Gutenberg, pre-cyberspace world" but, in the cyberspace world, such distinctions just lead to unproductive categorization disputes.
Thus, the court rejects that a person who actively selects/republishes other people's content becomes an ICP of that content or otherwise loses eligibility for the immunization. Of course, at some point "active involvement in the creation of a defamatory Internet posting would expose a defendant to liability as an original source." In this case, the defendant forwarded content without modification, so the court doesn't try to map out the boundaries. At the same time, the court notes that "many courts have reasoned that participation going no further than the traditional editorial functions of a publisher cannot deprive a defendant of section 230 immunity."
Collectively, these two points reinforce a broad reading of 47 USC 230 that no one is liable for other people's content online--period (except for claims not covered under the statute--IP, federal criminal law, ECPA).
Other than with respect to these 2 broad points, I don't think there's a lot of value in dissecting the specifics of the court's reasoning, even though the opinion contains a lot of good statements and quotes that show that the judges got it. Overall, the court's opinion largely just echoes the Zeran case, repeatedly saying that Zeran got it right.
Although the courts' analysis doesn't break much new ground from Zeran, this case still cleans out the erroneous California precedent that had strayed from Zeran ("swimming against the jurisdictional tide," as the Supreme Court characterizes the lower court opinion) and provides strong precedential authority to other jurisdictions that they should stay the Zeran course. This opinion also should shut down several plaintiff attempts to avoid 47 USC 230. It should preserve the immunization's vitality and facilitate the free flow of content over the Internet. Today is a good day for the Internet.
My prediction: In September, after the Supreme Court oral arguments, I predicted: "I think the court will reverse the appellate court 7-0 in a fairly broad ruling that joins the Zeran line of cases. I expect the opinion to be written by either Justices Kennard or Corrigan." Bingo!
Posted by Eric at 02:23 PM | Derivative Liability | Comments (5) | TrackBack
November 17, 2006
Craigslist Wins 230 Defense in Fair Housing Case--Chicago Lawyers' Committee for Civil Rights under the Law v. Craigslist
By Eric Goldman
Chicago Lawyers' Committee for Civil Rights under the Law, Inc. v. Craigslist, Inc., 1:06-CV-00657 (N.D. Ill. Nov. 14, 2006)
A group of lawyers sued Craigslist for displaying user-submitted classified ads that putatively violated the federal Fair Housing Act. This situation on its face is unambiguously covered by 47 USC 230, and there was even a directly-on-point precedent (the Roommate.com case) saying so. So it was easy to predict this case would immediately go down in flames, and I'm embarrassed for our profession that a group of lawyers (who should know the law) decided to bring such an obviously deficient and wasteful case.
And in a single paragraph, starting on page 26 of a 27 page opinion, the judge reinforces the case's complete lack of merit, succinctly dismissing the claim on its pleadings. The court says that (1) websites are ICS providers, (2) the classified ads on Craigslist originate from "another information content provider," and (3) the Fair Housing Act statutory language uses the verb "publish" as one of the restricted activities and the plaintiffs characterize Craigslist's behavior as "publishing" in their pleadings, so the plaintiffs are trying to treat Craigslist as a publisher of that third party content. All of the elements of a successful 230 defense are satisfied, so just like that--boom, boom, boom--case over.
But...what about those other 26 pages? Unfortunately, the judge joined the burgeoning trend of adding dicta suggesting limits to 230's parameters--other prominent examples of this trend include the 7th Circuit Doe v. GTE case and two recent 11th Circuit cases.
In this case, the judge questions the scope of Zeran, even though the judge acknowledges that she is attacking an "essentially uniform body of case law" (a particularly perilous endeavor in dicta). I'd like to explain how the judge picked a fight with Zeran, but her analysis is so muddled, rambling and filled with internal inconsistencies (which is ironic, because it complains that Zeran had internal inconsistencies) that it defies any easy summarization. Clearly, the judge thinks the word "publisher" doesn't mean what Zeran thinks it means (vaguely reminiscent of a line from Princess Bride), but the judge won't tell us what she thinks the word means, either (see FN 14). The judge intimates that an ICS isn't a publisher if it either (a) is too passive, or (b) edits third party content, suggesting that there is some hypothetical but undefined sweet spot of behavior that constitutes "publishing" for 230 purposes. But there was no need to clarify this sweet spot further because everyone agreed that Craigslist was a publisher here.
I really wish that judges would reconsider indulging themselves through 230-bashing dicta. All it does is encourages more plaintiffs to bring futile and wasteful lawsuits that impose real costs on defendants (like this case--which was inspired partially by the dicta from the Doe v. GTE case). So, my suggestion to understand the precedential import of this case: skip its dicta and just focus on its outcome--just like dozens of other precedents, the plaintiffs lost on the pleadings

Other commentary on this case:
* the EFF says the "court misreads the key cases, and creates a needless limitation that is contrary to the plain reading of Section 230, the intent of Congress and the needs to have open forums on the Internet"
* David Fish (a plaintiff-side lawyer), says "I predict that the judge's ruling will be adopted as it is extremely well-reasoned. I also believe that the Seventh Circuit is now the best place to bring a case that will be met with a Section 230 defense." Eric's comment: just what we need--plaintiff forum-shopping to find a weak link in the federal immunization of global Internet activity.
* Joe Zekas has even harsher things to say about this lawsuit than I do!
* Susan Crawford decided to update her blog post "to make the "dicta" point a few more times."
* The Zillow Blog says "this decision is a major victory for craigslist and self-policing real estate communities on the Web."
Posted by Eric at 11:13 AM | Derivative Liability | Comments (2) | TrackBack
November 13, 2006
Click Fraud Presentation
By Eric Goldman
I'm giving a presentation today on click fraud at the Stanford event I previously blogged about. My slides. Some of the points I plan to make about these slides:
* there is no uniform definition of click fraud
* the term "fraud" is a distractor
* some of the advertiser perceptions are misguided

UPDATE: Cathy Gellis summarized some of the event.
Posted by Eric at 01:41 PM | Licensing/Contracts , Search Engines | Comments (1) | TrackBack
November 11, 2006
Beebe on Trademark Dilution
By Eric Goldman
Barton Beebe, A Defense of the New Federal Trademark Antidilution Law, 16 Fordham Intell. Prop. Media & Ent. L.J. 1143 (2006)
Barton provides a (relatively) succinct policy analysis of the Trademark Dilution Revision Act. He concludes that the act is "a sensible and progressive reform of American federal antidilution protection." He makes a lot of great points, so check out the entire article.
Posted by Eric at 02:40 PM | Trademark | TrackBack
November 09, 2006
KinderStart v. Google Oct. 27 Hearing Transcript
By Eric Goldman
KinderStart.com LLC v. Google, Inc., No. C 06-2057 RS (N.D. Cal. hearing on motion to dismiss Oct. 27, 2006)
[Some other newly posted resources: Google's motion to dismiss the second amended complaint, and KinderStart's opposition to that motion]
On October 27, 2006, there was a hearing in the KinderStart v. Google case to discuss Google's motion to dismiss KinderStart's second amended complaint. See the transcript.
This is a fascinating hearing and one that isn't easily summarized. If you're interested, read the whole thing. Some highlights:
* KinderStart's counsel restricts the case only to websites who are dropped to PR0, which KinderStart argues is a mathematical impossibility. (As Google's counsel points out, this isn't a mathematical impossibility at all). So any other Google decisions about rankings (like dropping a PR10 to a PR1) now should be outside the scope of this case.
* There is some interesting discussion about 47 USC 230(c)(2), the underlitigated sister to 230(c)(1). Google argued in its motion to dismiss that 230(c)(2) protects all filtering decisions, and Google's algorithm is just a filter that should be immunized. Normally, a 230 defense would support a motion to dismiss, but the way I read the transcript, the judge does not feel comfortable ruling on a 230(c)(2) defense at such an early stage in the case. This is too bad because we would all love to know more about 230(c)(2), and a determination that 230(c)(2) absolutely protects search engine algorithms would be HUGE.
* The judge explored Google's anti-SLAPP motion, one of the issues left open from the last dismissal order. The judge expressed some hesitation about the anti-SLAPP motion, but my reading of the transcript is that Google said the judge could ignore the anti-SLAPP motion if he just grants the motion to dismiss with prejudice (in other words, Google will be happy if the case is finally ended, even if Google doesn't get the other anti-SLAPP sanctions).
The judge indicates that he will try to issue his opinion by year end. So who is going to have a merry Christmas? (I'm still betting that Google will).
Posted by Eric at 02:11 PM | Derivative Liability , Search Engines | TrackBack
November 06, 2006
Click Fraud Panel Nov. 13 at Stanford Law School
By Eric Goldman
I'm passing along notice of this event next week that you might find interesting. If you're in the Bay Area, it would be a delight to see you there.
_____
The Stanford Law School Center for Ecommerce, part of the Stanford Program in Law, Science & Technology presents:

Litigating "Click Fraud" Cases

November 13, 2006
Stanford Law School, Room 290
5:30 p.m. (Reception)
6:30 p.m. (Panel)
Search engines make virtually all of their money by serving ads people actually want to read. Advertisers pay only when a viewer clicks on the ad link. Some advertisers complain, however, that competitors and affiliates are engaged in "click fraud" to make money or drive up their rivals' costs, and a number of class action suits will be filed. This evening panel brings together experts from the world of practice, government, and academia to discuss developments in click fraud litigation and what this issue means for the broader Internet advertising model.
Panelists:
Mary Engle, Federal Trade Commission, Washington DC
Daralyn Durie, Keker & Van Nest, San Francisco (counsel for Google in click-fraud class actions)
Prof. Eric Goldman, Santa Clara University School of Law
Moderator:
Prof. Mark A. Lemley, Stanford Law School

To register please click on the following link: http://www.seeuthere.com/event/m2c523-551239580897
Posted by Eric at 05:02 PM | Licensing/Contracts , Search Engines | Comments (1) | TrackBack
November 03, 2006
October 2006 Quick Links
By Eric Goldman
* All the media wants to do is talk about Google. All Google, all the time. Three major pieces in the span of three days: The NYT on lawsuits against Google. The WSJ on Google's hiring practices. The Washington Post on Google's culture.
* William Slawski discusses some of Google's patent applications for technologies to minimize trademark liability for keyword-triggered ads. A new patent application (with Google's senior trademark counsel listed as an inventor!) was recently published entitled "Automated screening of content based on intellectual property rights." The patent application generally provides a system for bouncing ads that might be infringing. It's interesting that Google wants to patent this system to keep competitors from using it--Google already stands alone among the major search engines in continuing to permit unrestricted competitive keyword buys.
* Randall Stross on how venture capitalists like to invest their money within a 20 minute drive--one of the reasons why the Silicon Valley community is self-reinforcing. Even now, with fancy virtual technology, geography still matters--a lot.
* I've previously blogged on the dark side of consumer-generated content--that it can be a huge liability trap for unsuspecting consumers. And if consumers ever figure this out, we'll see the supply of consumer-generated content dry up. On that note, a negative peer review of a doctor led to a judgment of $142M against the reviewer, $32M against his colleagues, and $161M against the hospital. The judge haircut this down to "only" $23M, with only $12M coming from the reviewing doctor. With numbers like that, all of us are going to keep our mouths shut!
* Like we couldn't see this train wreck coming. Utah passes a law that kids' email addresses can be registered on a do-not-spam list. Whoops, the registry divulged some of these email addresses--gee, thanks for the help protecting the kids from porn spam.
* BusinessWeek has an important article on the impossibility of getting accurate metrics of online activity. If you are drafting web contracts, you as the lawyer absolutely need to clarify whose numbers will govern the contract (and, if the vendor's number controls, you may want to specify the methods for counting).
* CNET has a goldmine of emails and other documents from the HP pretexting scandal. Great fodder for real-life cautionary tales.
* Pinnacle was busted for running a Ponzi scheme. It turns out that Pinnacle had run ads in major publications like Newsweek and the WSJ. So the WSJ Law Blog surveys 2 experts--are newspaper publishers liable for fraudulent ads provided by their advertisers? Answer: No.
* Los Angeles Boy Scouts can earn a "Respect Copyright" activity patch. See the patch here.
* Braver v. Ameriquest Mortgage Co., CIV-04-1013-W (W.D. Okla. Oct. 20, 2006). Spammer generates mortgage leads, including one from an Oklahoma resident, and resells to defendant mortgage lead broker, who in turn flips the leads to Ameriquest. Mortgage lead broker is based in SC and sued in OK. Court grants broker's motion to dismiss for lack of jurisdiction. For more on the plaintiff's multi-year quixotic legal quest, see here.
* A now-familiar story. Teens party hard. Someone snaps photos and posts to MySpace. School finds out and disciplines partiers. The twist? The school only disciplined the female partiers, leading to a sexual discrimination lawsuit.
* Politicians are being Google-bombed by opponents to advance material critical of them.
Posted by Eric at 10:16 PM | Content Regulation , Copyright , Derivative Liability , E-Commerce , Licensing/Contracts , Search Engines , Spam , Trademark | TrackBack
November 02, 2006
Keyword Law and Blog Law Presentations
By Eric Goldman
I took a lovely (but wet) 30 hour trip to Portland to give 2 talks:
* Keyword Law talk (substantially revised from my last talk on the topic August 2005)
* Blog Law talk (modestly revised from my last talk on the topic April 2006)
Posted by Eric at 08:21 PM | Adware/Spyware , Derivative Liability , Search Engines , Trademark | TrackBack